A fun and very colorful culinary activity!
For this colorful activity, children will be pleased by the array of fondant decorations. A wide variety of themes is offered to them (princesses, super-heroes, cars, animals, movie characters, etc.). Kids will be proud of their unique cupcakes and not only will they be pretty, they will be delicious! This activity is reserved for school groups, libraries and municipal activities, office parties, etc..
Flow
1 - Demonstration of the decorating technique with our professional material.
2 - Decorating the fondant.
3 - Packing cupcakes to bring home.
4 - Diplomas
DURATION: from 30 minutes to 1:30, depending on the package
Rates
Starting at $ 5 per child. Please contact me for a personalized quote.
During the cupcake decorating activity, the kids will be able to bring their favorite characters to life! Cute, isn't?
Our numerous edible printing models, made of fondant, let the children limitless creativity run wild!
The children will be able to choose from over 40 different fondant decorations to decorate their cupcakes.
Should a "baker's block" arise during theirs cupcakes' decoration, we offer dozens of printed examples to spark the imagination.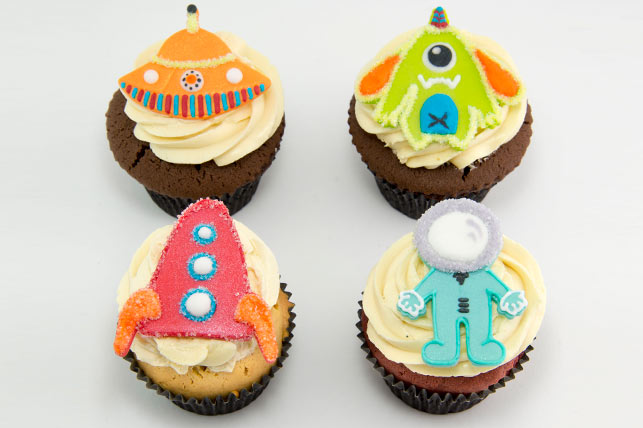 The cupcake decorating workshop is made as much for boys as for girls. We have dozens of models that specifically attracts boys.
INCLUDED IN THIS PACKAGE :
Great choice of fondant decorations
All the decorative material (colored sugars, royal icing, etc.)
Transport box (depending on the chosen package)
"Distinguished cupcake decorator" diploma