Choose a "ready to go" party in the comfort of your house!
*** Kids Party will be back in 2024 ***
P.S. If you need help in the meantime, here is an option to help you host a birthday party at home: Cookie decorating kit

Kid's party animations with Sweet Isabelle's team, it's magical! Choose our "ready-to-go" concept! No need to buy birthday cake! No gift bags to plan (kids go home with their work of art)! No invitation card to create (we provide a template)! No hidden fees!

We bring all the material with us, you only have to bring the kids... and provide the space that will allow them to decorate comfortably (kitchen table), as well as to provide an oven so that we can cook the cupcakes. If you have a kitchen island, we will use it to pour the cake batter at the beginning of the activity. Decorating cookies and cupcakes, it's an activity full of magic that stimulates creativity and arouses the senses! And, at Sweet Isabelle's, we do not cut corners on quality! Our homemade cupcakes and shortbread cookies are made of pure butter and are created with the best possible ingredients! We only use butter; no oil, no vegetable fat, no artificial flavor, no preservative agent, no powdered sugar. Therefore, our products are not too sweet. And we do not use any nut, almond or peanut in our recipes.


DURATION : 2h30.
PRICES OF OUR PACKAGES
$39 * per child (minimum of 8 children) + $50 for packing and unpacking the material for transportation needs
Travel fees: The first 25 KM that separate the distance from the shop to your home are included in the package. Excess KM is charged at $2 per KM (tx inc.). Calculate for one way only.
* plus taxes
ACCOMPANYING ADULTS
We will gladly welcome you around the table, to take pictures and help out at the table while enjoying this special moment that is your child's birthday!
The kids will also prepare you a cupcake at the beginning of the workshop. This way, you will be there when it's time to sing "Happy birthday".
For children of 4 and 5 years old, it is recommended to have a ratio of one adult per 2 children.
For children of 6 and 7 years old, it is recommended to have a ratio of one adult per 3 children.
For a successful birthday animation, in the comfort of your house!
For at home birthday parties, we come with all the necessary material, including what is needed to make delicious cupcakes that will be used as birthday cakes!
When we visit your home for your kid's party, you only need to provide the space, we take care of everything else!
At home, all kid's parties begin with the baking and tasting of cupcakes. Your little chefs will love to lend a hand!
We travel almost everywhere in Quebec for kid's party animations!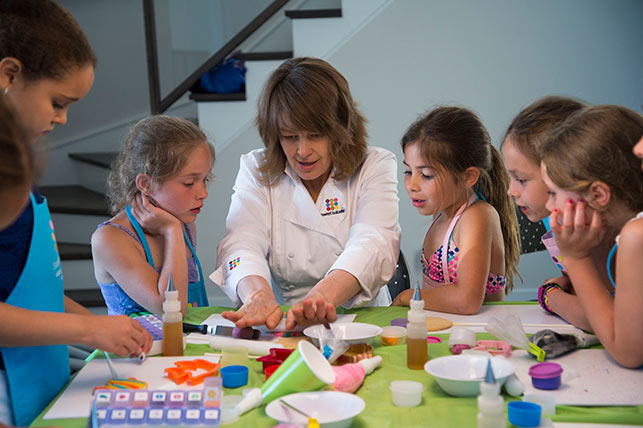 All along the activity, the children will be assisted by our experienced animators!
To celebrate your kid's birthday, what would be better than tiny cakes fresh out of the oven! Not only will it taste good but it will also smell good in your house! And of course, there will be plenty for the accompanying parents!
RESERVATION
We recommend that you make your reservation 2 to 4 weeks in advance to make sure you get your ideal date. Last minute reservation can also work out. Do not hesitate to contact us for any questions.