Choose culinary creativity!
Decorating cookies is really wonderful! Have a cookie shaped as a flower, heart, rocket, butterfly, cat,dinosaur ... there is more than 40 different models for you to choose from! With a big inventory of professional equipment made for decorating, Isabelle will let you discover the art of cookie decoration!
Flow
1- At the beginning of the workshop, making and cooking one cupcake per child (we use the cupcakes as birthday cake).
2- Choice of 5 big cookies on stick per child.
3- Presentation of the cookie decorating techniques
4- Decoration of 5 cookies.
5- Wrapping cookies to bring home (each child brings back a bag filled with 5 decorated cookies in cellophane paper)
6- Cupcakes set-up (decoration and candles) to sing "Happy birthday". Children themselves bring the cupcakes to the birthday girl or boy! A glass of water is served with the cupcakes.
7- Graduation with diplomas
DURATION : 2 h 30
You're over 18 years old and you like this activity? Click here!
A cookie decorating activity at Sweet Isabelle, it always starts by cooking a big cupcake!
Decorating cookies, it's a creative and magical activity. Children will be proud to share their creation with their relatives!
With more than 40 different cookie designs, there is something for everyone!
All the way through the activity, our experienced animators will guide your children during their creation.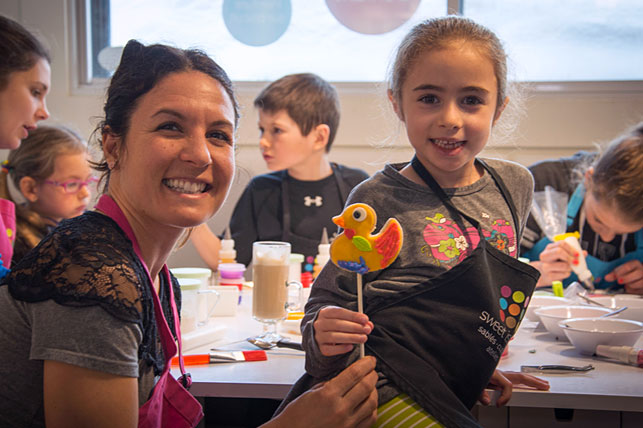 With all of our professional decoration material, your creativity won't have any limits!
Kid's party at Sweet Isabelle, it always ends up with smiles while enjoying the cupcakes prepared by the children at the beginning of the workshop.
INCLUDED IN THIS PACKAGE :
5 big shortbread cookies on stick per person
Many colors of marshmallow fondant
Access to all the professional decoration equipement
Marshmallow fondant decoration pieces, colored sugar, royal icing, etc.
Shortbread cookie bits to enjoy during the activity
Cupcakes
Glass of milk
"Distinguished cookie decorator" diploma
Invitation card template to customize