Animals and plants (flowers, fruits, vegetables) will come to life in your hand with this out of the ordinary activity!
Equipped with a wide range of specialized equipment for moulding sugar dough, and guided by our experts, your little artists will become real Michelangelo of edible play dough! The birthday girls or boys will be able to choose in advance, within all of our variety of models, the ones that will be used during the activity. Given the high level of dexterity required for this workshop, it is reserved for children over 14 years old.
Flow
1- At the beginning of the workshop, each kid will make and bake a cupcake (we use it as the birthday cake).
2- The participants will cut shortbread dough with the cookie-cutter and cook it to create the base of the figurines.
3- We will demonstrate the basic techniques of moulding the marshmallow paste.
4- The participants will create the figurines.
5- Each participant will wrap the figurines to take home (each kid leaves with a box filled with 6 figurines laying on colored squared shaped shortbread)
6- The participants will prepare the cupcakes decorations and candles to sing "Happy birthday". The kids themselves bring the cupackes to the birthday girl or boy! A glass of milk or water is served with the cupcakes.
7- Graduation with diplomas
DURATION : 2 h 30
You're over 18 years old and you like this activity? Click here !
At the beginning of the activity, the children cut the shortbread cookies pieces that will be used for the base of their figurines.
For once, your children will be allowed to eat "play dough"!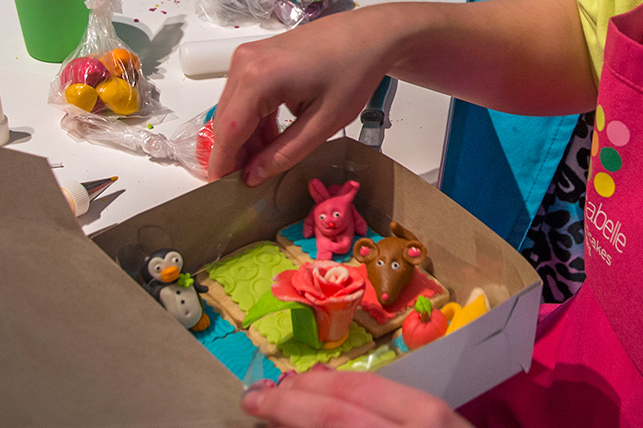 The "shortbread cookies and marshmallow fondant dough" combo, a winning recipe for this culinary activity.
Proud of their creation, the aspiring-bakers will bring back home their figurines for you to see it!
Kids love to watch animals coming to life in their hands ... and then disappear in their mouth!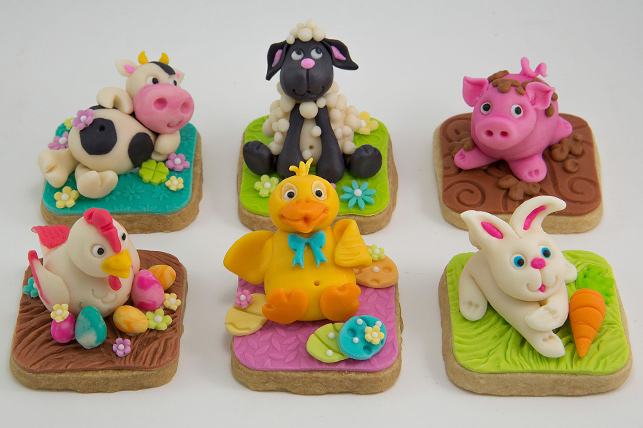 Farm animals are very popular models for kids!
Yet more models to inspire the aspiring-bakers!
INCLUDED IN THIS PACKAGE:
6 shortbread cookies per person (as a base for the figurines)
Many colors of marshmallow fondant
Access to all the professional decoration equipment
Marshmallow fondant decoration pieces, colored sugar, royal icing, etc.
Shortbread cookie bits to enjoy during the activity
Cupcakes
Glass of milk
"Distinguished cookie decorator" diploma
Invitation card template to customize